TIDE POOL EDUCATIONAL APP
UX RESEACH, ILLUSTRATION, MOTION GRAPHICS
WESTERN WASHINGTON UNIVERSITY


CASE STUDY
Our project was to design an educational kids game app that would promote a local organization.
TEAMMATE:
Hannah Amundson - UX Research, Ethnography, Video Editing, Photographs
INTRO:
The Marine Life Center offers a way for the general public to develop a greater appreciation of underwater sea life and provide important educational programs for school children in and around Bellingham, WA. They have several exhibits and a touch pool for children to feel and experience sea life in a fun and safe environment
The business currently has no app for parents or children to access, and is in need of increased foot-traffic and awareness of it's services. The MLC is a non-profit organization and survives on local donations; foot-traffic and repeat visitors are a must in order to keep the MLC up and running.
GOALS:
An app that can be used at home to remind parents and children to visit the Marine Life Center.
Notifications about events at the Marine Life Center.
Educational mini games that showcase the unique habits and facts about the creatures at the Marine Life Center.
Different levels of games for both beginners and advanced.
Live cams that connect children to the sea life at the Marine Life Center.
CHALLENGE:
How to create an app that is both an educational game for kids and also promotes the marine life center.
RESEARCH:
Our research was limited by our peer group and lack of subjects (adults with children) that we had access to. However, our interviews and ethnography were vastly helpful in assessing our target age group, features of the app, and how people/children interact with the Marine Life Center.
INTERVIEWS
FIND AN AGE RANGE
We found that after the age of twelve/thirteen kids are not interested in going to the Marine Life Center or parents generally stop taking them. Parents said that they would most likely take their kids to the Marine Life Center starting at age 3. However, our group didn't start letting children use their phones until age 5. This means that our target age group would be roughly 5-10; old enough to use a tablet, but not too old to lose interest in the Marine Life Center.
MAKE IT EDUCATIONAL
Parents are willing to download apps for their children as long as they serve a purpose or are educational and teach the children something while they are playing.
ENCOURAGE INTERACTION
Many children seem to enjoy having avatars or characters they can connect with are relate to. Print outs and other interactive mediums are seen as a way to engage children and connect them to real-life interaction.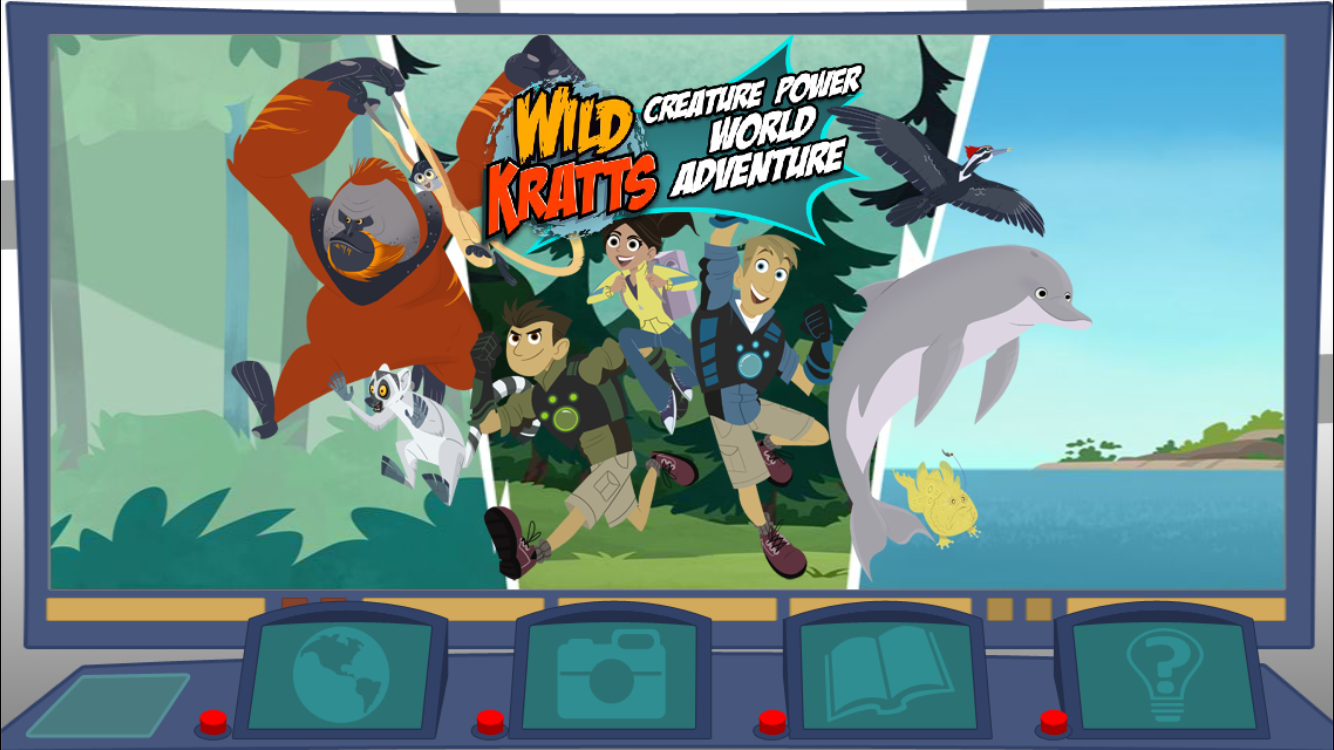 COMPETITORS
Our competitive research involved looking at other games and evaluating how successful their user flow was. Many of the games included photography, making a story with videos of surroundings, stories where kids can make choices that affect the game and outcomes, and solving puzzles to move forward in game.
CREATURES OF LIGHT - Targeting which age group visits the MLC the most.
RANGER RICK'S ADVENTURES - Parents need to feel that their child is learning through a game.
WILD KRATTS CREATURE POWER WORLD ADVENTURE -Mini games with a variety of animals, sticker book, selfies with the animals. You unlock more creatures by playing more.
We decided that we liked the model of "Wild Kratts"; with a variety of mini games and a variety of animals to chose from, we felt that this game successfully incorporated both the educational and fun aspect of an app game for kids.
ETHNOGRAPHY
For our next step, we journeyed to the Marine Life Center to observe kids and parents at for an hour. Children were, on average, age 3-10. Kids loved being able to interact with the seal life, touch and feel starfish, but were confused that you could not really take animals out of water. They also gravitated towards the big center open tank with crabs and sculpin. There was currently no octopus, but kids would still go to the tank expecting and often commenting on the fact that there was no octopus. This seems to be a major draw for the MLC. Kids spent an average of 5-10 minutes on each exhibit. Parents would often repeat facts and read aloud the descriptions of the sea life to the children.

PROTOTYPES
The interface for our game, our screens, and our actual game model all went through a series of changes, prompted by our user testing. Our first prototypes were paper/pen and contained the interface for the game and a play-through of the first level of game. Many users could not find the facts or live cam button, so in our second round we changed the icons. Users also struggled to find the avatar or to know how to get to the game. In the end, we decided to add more text to make it clear that the main feature of the app was the mini-games.

SECOND ROUND PROTOTYPES
In our second round of prototypes on Invision, we received feedback about the lack of backgrounds, and the text weight and kerning. We also received feedback about the lack of unity between the illustrations.

VISUAL DESIGN
We knew that in designing a kids app the visuals had to be bright, inviting, playful, and something that kids and parents could enjoy.

Sketches to Watercolor: Sketches of sea-life and the tide pool environment started the process of visual design for the game. Hours of research was spent studying PNW creatures that the Marine Life Center houses with special attention to; color schemes, movement, size, and overall pattern and textures. After sketching out initial concepts for the creatures, I began to do watercolors of the three main creatures; hermit crabs, octopus, and spot prawns.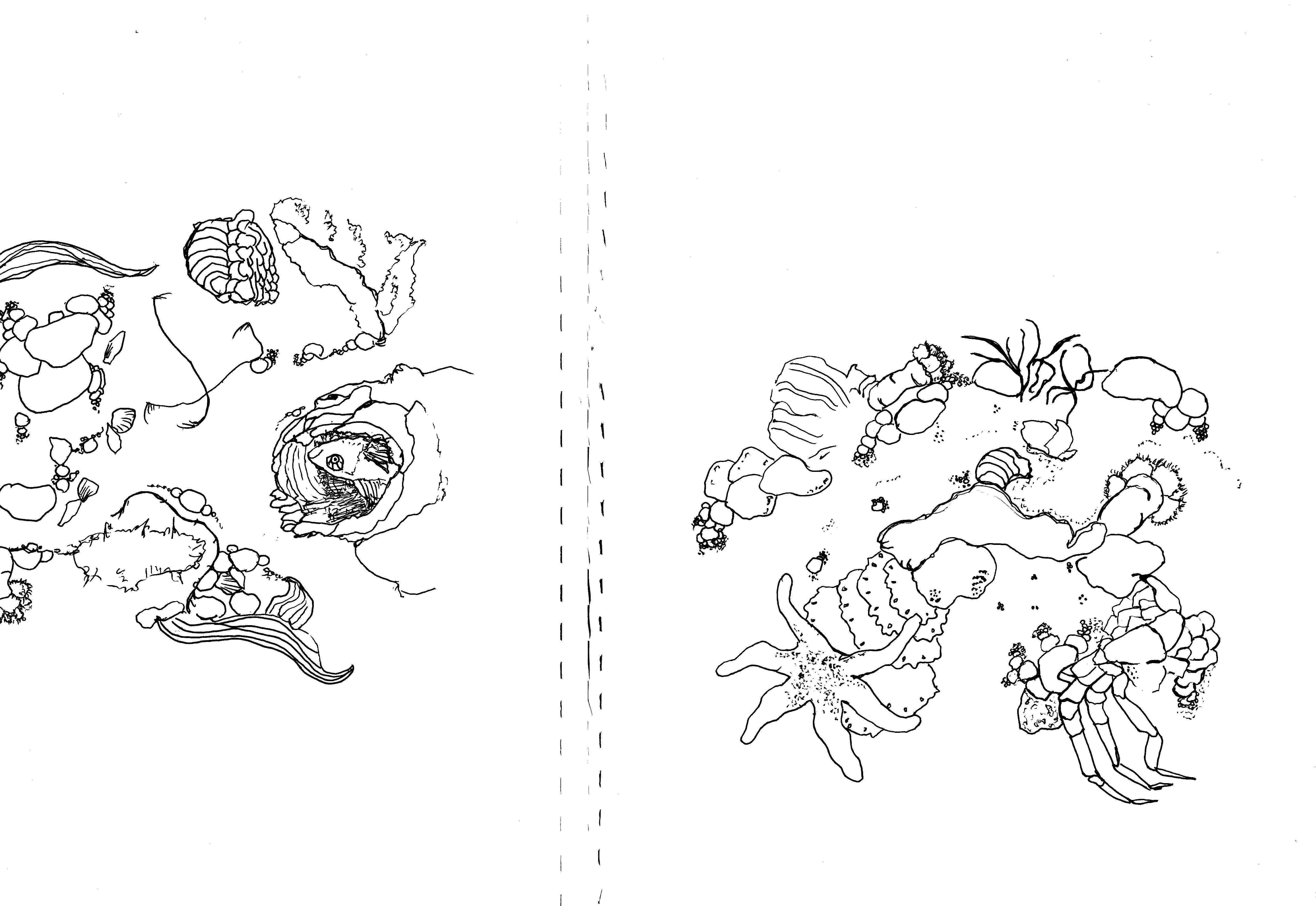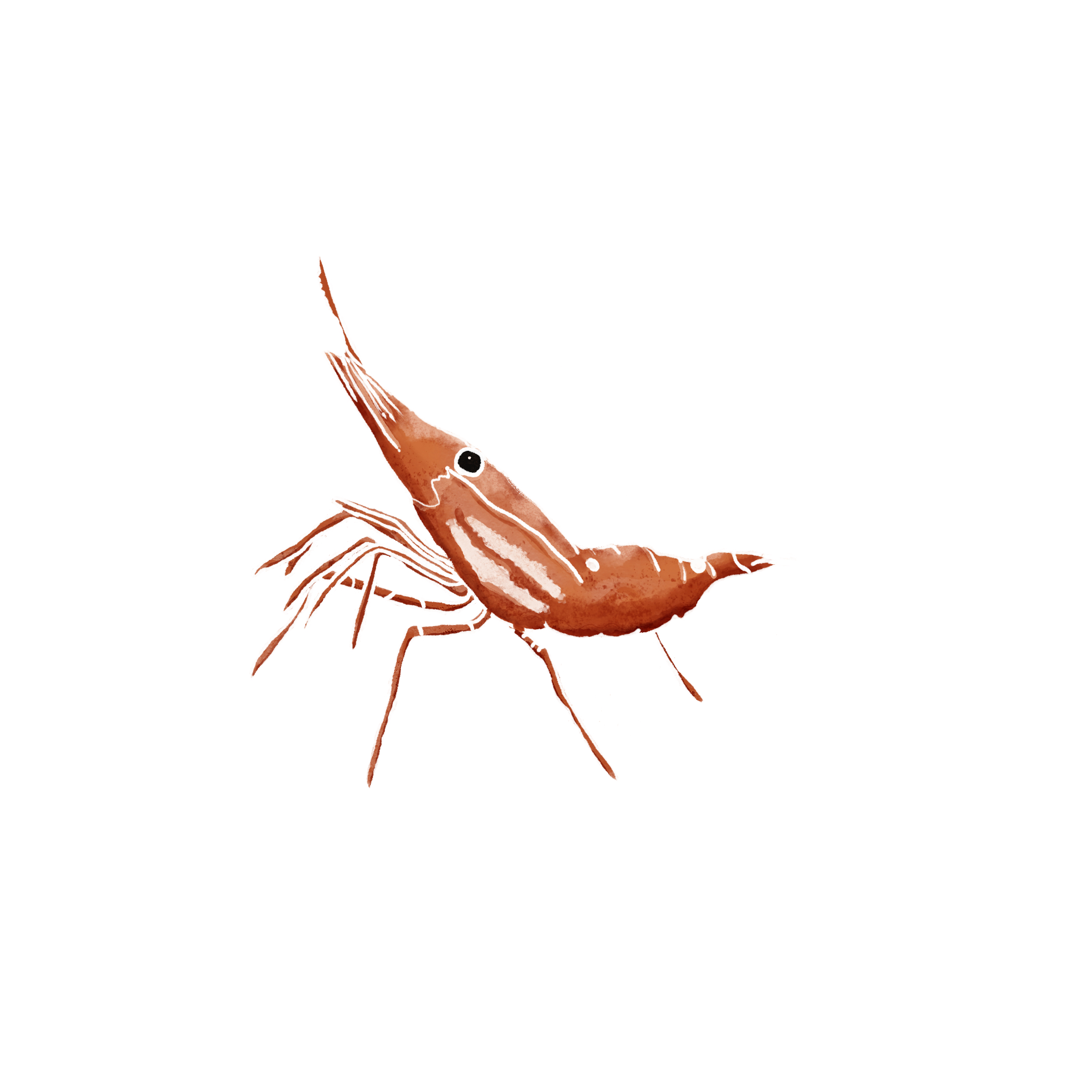 FINAL CREATURES: I used my watercolor brush set in Photoshop to give the creatures the same beautiful water color look using the chosen color palette and the same brush set. The finished creatures are uniform and still beautiful and colorful. Creating the characters in Photoshop also gave the advantage of separating the parts out for animating in Adobe After Effects.


ANIMATION
Each creature has it's own unique animation. I made all the animations for the creatures. The animation style is organic and very slight, as if the creature is waiting for the user to interact with it. They are subtle enough to not be distracting, but engaging enough to make you want to click on them. We chose to showcase the hermit crab and the octopus game.

SHELL GAME: The user is invited to pick a new shell for a hermit crab. The animation is simple and showcases a player winning the first round of the game. After winning 3 rounds of the game, a video/animation of hermit crabs appears for kids to watch the crabs real-life routine.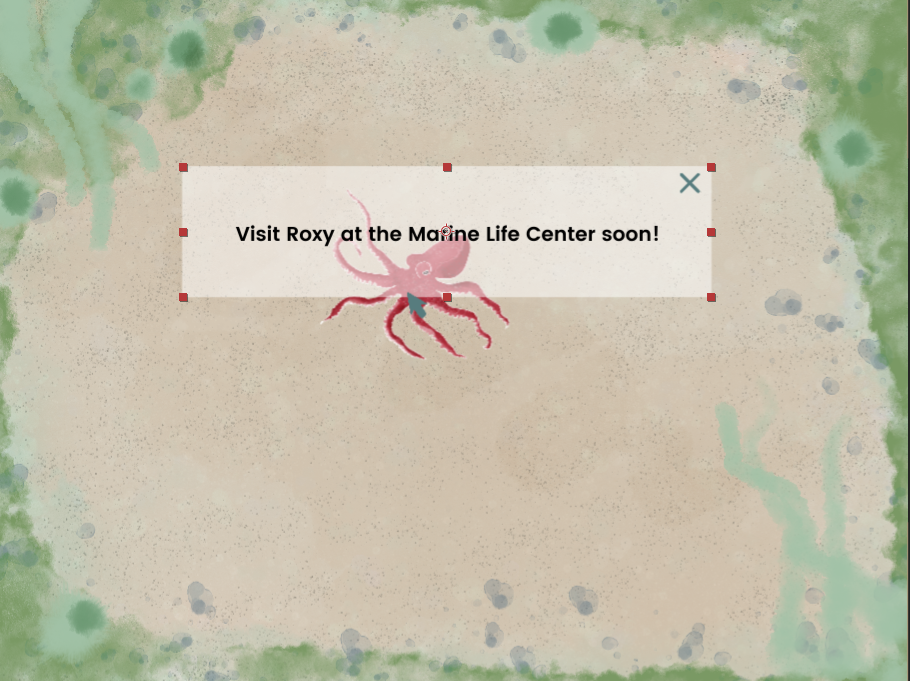 HIDE AND SEEK: The octopus game consists of a player trying to find an invisible octopus named Roxy; who was once a featured creature at the Marine Life Center before being released into the wild. This game would also consist of different rounds, the more difficult the level the harder it is to see Roxy. After winning 5 rounds of the game, the user can view a video of an octopus using it's camouflage technique to hide from predators.
OUTCOME
We created a realistic mockup of an educational game app that helps the Marine Life Center by alerting players of events, and encouraging kids to out visit the creatures in the game in real life.
PERSONAL CHALLENGES:
Our target demographic was hard to connect with and do research on. Creating an app with a realistic game was difficult to figure out point systems, rewards, movement and user flowm. Animating the characters without taking away the illustrative quality of them.
FINAL THOUGHTS:
We feel that overall we created a successful mockup educational game app for kids. The visual design is beautiful and playful, and the overall flow of the app is simple and easy to use. Future additions would be to add coloring pages and "paper-doll" print outs. We would also make pop-up event notifications appear on certain days of the year that would connect to a calendar of events at the Marine Life Center. Finally, to work with a game developer to actually make the games!
View the game